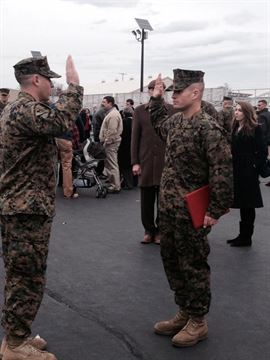 Staff Sgt. James J. W. Geiger reaffirms the oath of enlistment after his graduation from Officer Candidate Course in Quantico, Virginia.
(official USMC image).
Marine Corps News: Corps Wants to Increase Number of "Mustang" Officers
Added November 19, 2015

Marine Corps officials have recently announced that they'd like to see an increase in the number of enlisted Marines who become commissioned, or "mustang," officers in 2016.
Over the last three years, an average of 111 enlisted Marines were selected for officer programs. The Corps would like to see that number increase to at least 150 in 2016.